Opens March 5, 2010!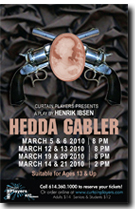 March 5 & 6, 2010 at 8:00pm
March 12, 13, 19 & 20, 2010 at 8:00pm
March 14 & 21, 2010 at 2:00pm
Featuring: Linda Browning Hughes, Nancy Meyer, Micah Jenkins, Emily Bach, Laura Miller, Joe Lusher, Jeremy Ryan Brown.
Henrik Ibsen's masterpiece of psychological drama tells the story of Hedda Tesman, a beautiful and formidable woman woefully out of step with the culture into which she has been born. Upon returning from her honeymoon with the reliable but dull academic George Tesman, Hedda finds herself without purpose or passion in a society that expects her to be little more than a doting wife and mother. Convinced she will die from the boredom, Hedda seizes upon the opportunity to interfere in the affairs of a former friend, Eilert Lovborg, a reformed libertine but, more importantly, a literary and academic rival to her husband. Hedda soon becomes jealous of a former schoolmate, Thea Elvsted, who has been both the source of creative inspiration for Lovborg's new manuscript, and the motivation behind his transformed behavior. Ever the nimble strategist, Hedda is able to steer Eilert toward a night of drunken debauchery where he loses both his prized manuscript, and his will to live. Hedda then gives Lovborg a pistol, encouraging him to kill himself "beautifully." When Lovborg is later found dead, the Machiavellian Judge Brack attempts to extort Hedda for her complicity with Lovborg's death. Terrified of the inevitable scandal and unable to abide being under the control of another person, Hedda finally takes matters into her own hands.
Suitable for Ages 13 and Up
Make Reservations by calling 614.360.1000 or
reserve seats online!
Back to the 2009–2010 season
Back to the homepage
---
Meet the Cast

Meet the Crew

Crew Not Pictured
---
Publicity Stills
Click on the thumbnails below to view larger images.
Photos by Dale Bush