Opens October 17, 2014!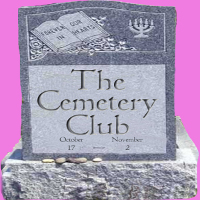 Oct. 17, 18, 24, 25, 31 & Nov. 1, 2014 at 8:00pm
Oct. 26 & Nov. 2, 2014 at 2:00pm
Featuring:
Linda Browning, Ernie Nicastro, Linda Goodwin, Kathy Sturm & Laura Tirronen
Three Jewish widows meet once a month for tea before going to visit their husbands' graves. Ida is sweet tempered and ready to begin a new life; Lucille is a feisty embodiment of the girl who just wants to have fun; and Doris is prim and a bit judgmental. Sam the butcher meets the widows while visiting his wife's grave and seems to be shyly smitten with Ida, but Doris and Lucille thwart the budding romance to protect Ida from disappointment. They are guilt stricken when this nearly breaks Ida's heart, but all is resolved happily in the end.
Suitable for all ages.
Purchase tickets online or call 614.360.1000.
Back to the 2014–2015 season
Back to the homepage
---
Meet the Cast
Photos by Dale Bush and Christopher Chapman


Meet the Crew








Set Design / Construction
Neil Aring, Keely Kurtas-Chapman, Rosie DiPasquale, Denise Dumouchelle, John Maassel, Stephen Moore, Booth Muller, Kirsten Peninger, Ashley Schuliger, Mark Schuliger, Dale Trott, Drew Washburn
Costume Assistants
Rosie DiPasquale, Sherry Peninger
Master Electricians
Jeff Cramlet, Denise Dumouchelle

---
Publicity Stills
Click on the thumbnails below to view larger images.
Photos by Christopher Chapman and Keely Kurtas-Chapman