Opens May 6, 2016!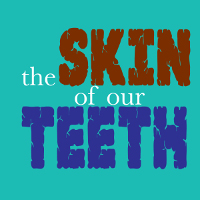 The Skin of Our Teeth
Directed by Danielle Mari
Produced by Stephen Elliot Moore
Stage Manager Kent Halloran
May 6, 7, 13, 14, 20, & 21, 2016 at 8:00pm
May 15 & 22, 2016 at 2:00pm
Featuring:
Isaac Barnes, Heather Fidler, Brian Henry, Martina Holbrook, Kasey Meininger, Casey Merkey, Lizzy Merkey, Frank Peter, Heather Schultz, JJ Sheehan, Molly Watson, & Jessica Weislogel
The modern-looking Antrobus family and their seductive maid, Sabina, survive many ancient disasters, including the Ice Age, Noah's flood, war and famine, always able to start over and begin anew in this Pulitzer Prize winning dark comedy from the author of Our Town.
Recommended for audiences 13 and up.
Note: Strobe lights and loud sound effects are used during performances.
Purchase tickets online or call 614.360.1000.