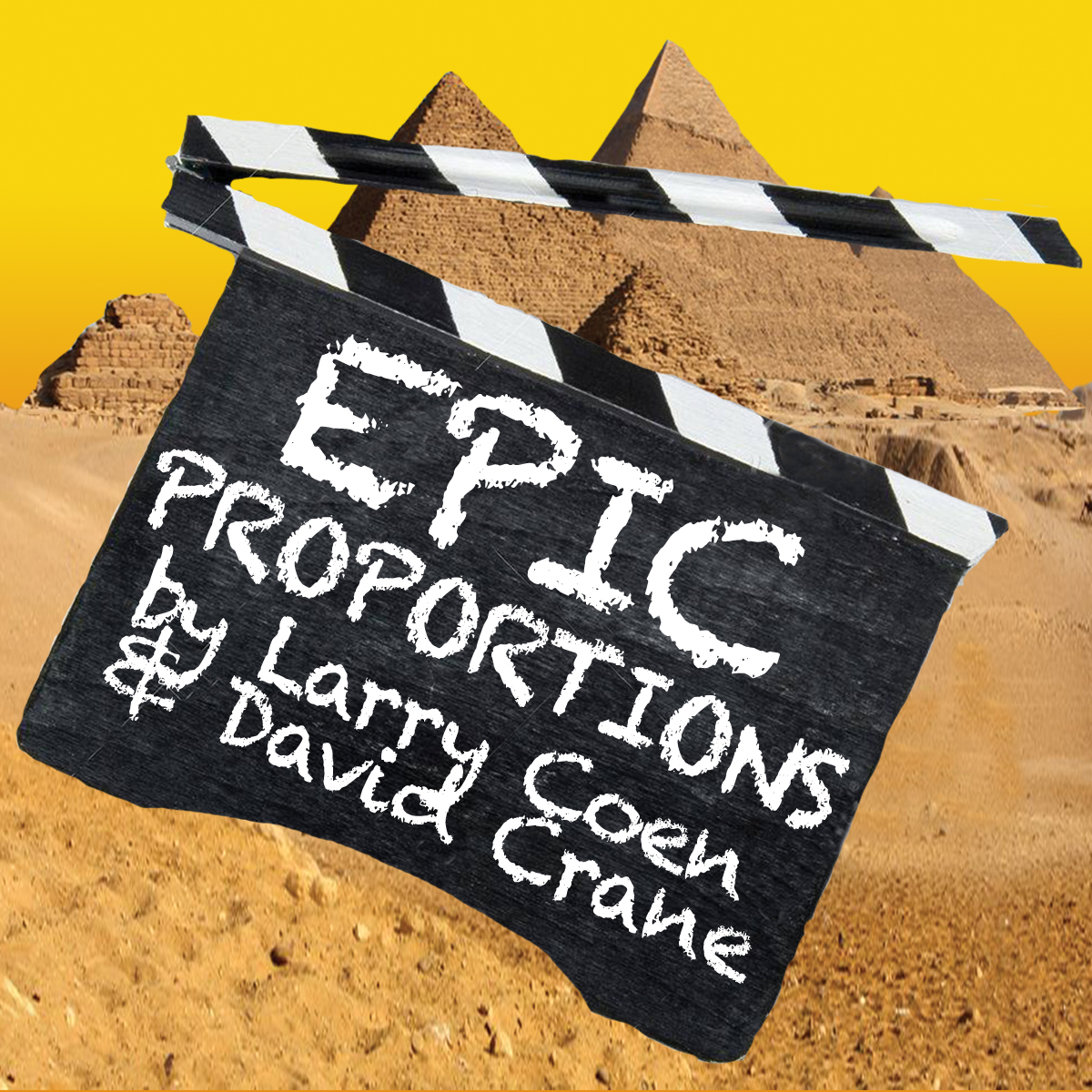 Epic Proportions
by Larry Coen and David Crane
Directed by Jeremy Sony
Stage Manager Sara Weaver
May 3, 4, 10, 11, 17, & 18, 2019 at 8:00PM
May 5 & 19, 2019 at 2:00PM
Featuring:

Nathan Bashaw, Randy Benge, Michael Day, Emma Kinnison, Greg Kissner, Colin Luther, Rachel Luther, & Kyle Smith
Set in the 1930s, this comedy tells the story of two brothers who go to the Arizona desert to be extras in the huge Hollywood Biblical epic "Exeunt Omnes". Before you know it, Phil is directing the movie, and Benny is starring in it. To complicate matters further they both fall in love with the same woman, not to mention the gladiator battles, the Ten Plagues and a cast of thousands.

Presented in part with a generous grant from the Delaware County Foundation.
Suitable for audiences of all ages. Some moderately strong language, however.
Food Drive

Curtain Players will conduct a food drive during Epic Proportions to benefit Westerville Area Resource Ministry. Those attending performances are being asked to contribute three (3) non-perishable food items, household supplies, and/or personal care products.
Goods collected will be delivered to WARM for distribution in their food pantry. Cash donations, too, will be accepted at the theatre.
---
Easily make your Curtain Players donation in The Giving Store!
---
Volunteer!
Not only does it feel great to volunteer, house staff see performances for free! Learn more >
In the Spotlight
Board Elections Set for Year-End Party
The 2019 Curtain Players Board of Directors elections will be held during the membership meeting portion of our year-end party on May 31.
BALLOT The current board approved the following slate of candidates for two-year board seats beginning July 1, 2019 and ending June 30, 2021:
Vice-President: Kathy Hyland
Treasurer: Jeanine Joseph (incumbent)
Trustee I: Allison Fagan
Trustee III: Noah Martin
Additional candidates may be nominated from the floor at the membership meeting Friday, May 31. Candidates must be Curtain Players members in good standing.
The seats for President (Heather Schultz), Secretary (Sharifa Andrews), Trustee II (Wendy Brinker), and Trustee IV (Sean Brinker) will be up for election in 2020.
VOTING Voting will take place during the membership meeting program during the year-end season party on May 31. Candidates will have an opportunity to introduce themselves to the voters before balloting. Those casting ballots must be members in good standing, defined as: individuals as having documented production credits (on stage or on production staffs or crews); volunteer hours (from Set Build Saturdays and committee work); or recorded donations to the theatre during the current season. No ballots will be cast in absentia or by proxy. Votes will be counted and officeholders announced that evening.
The Curtain Players board meets monthly. All board members assume and share various and multiple duties and projects of theatre administration, governance, and operations.
Questions should be directed to Casey Merkey at vice.president@curtainplayers.org
Thanks to Our Supporting Organizations:
Curtain Players is an award-winning theater serving the central-Ohio area. We have been routinely recognized by AACT, OCTA, and Theatre Roundtable for our tradition of excellence. Learn more about
who we are
!