Curtain Players operates through the support of its members and the community. From our stage crews, to the actors, to the house staff that greets you upon arrival, every production and event is coordinated and run by volunteers. With your help, we can continue our tradition of excellence.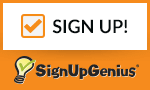 To view all current signups for Curtain Players, go to signupgenius.com and click the magnifying glass in the top right corner. You can then enter the email address used to create the signups: sarah.curtainplayers@gmail.com to view all of the active sign ups for Curtain Players!
Below are some of the ways you can get involved:
---
House Staff
If you've been to a Curtain Players' production, then you've seen that we have an active Front of House Staff for each performance. From parking-lot attendants to concessions to the ushers, we rely on volunteers to fill those duties. As a thank you for giving your time before a performance (or during intermission), we offer free admission to the show. E-mail us at volunteer@curtainplayers.org to learn more.
---
Production Crew
For every actor that you see onstage, there is a crew member back stage or in the tech booth working just as hard to give the audience a great show. Do you have experience in directing, stage managing, producing, set design, lighting, sound, costuming, props—or have you ever thought about it and wanted to learn? Write to production@curtainplayers.org and let us show you what goes on behind the scenes.
---
Auditioning at Curtain Players
Full details on auditioning at Curtain Players can be found on our auditions page. >
---
Join a Committee
We are always looking for members to serve on the committees that keep things flowing behind the scenes. From casting, to script reading, to publicity, event planning, and more, there are several ways for you to volunteer and bring your talents to the table. If you're interested in serving on a committee, please write to Curtain Players President Heather Schultz at president@curtainplayers.org.
---
Board of Directors
Maybe you're more interested in the administrative side of things and you're thinking about joining the Board of Directors. We encourage you to explore this opportunity! Learn more about the Curtain Players Board of Directors and feel free to contact any of them if you have questions.
---
Easily make your Curtain Players donation in The Giving Store!
Curtain Players is an award-winning theater serving the central-Ohio area. We have been routinely recognized by AACT, OCTA, and Theatre Roundtable for our tradition of excellence. Learn more about
who we are
!